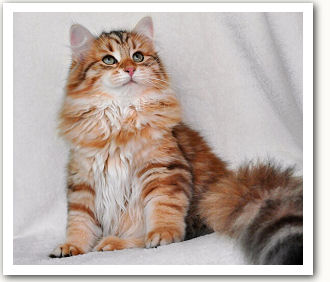 I graduated from the University of Environmental and Life Sciences, direction Animal Breeding Specialist.
I bought first breeding cat in 2004 year, so I have about 17 years experience in Siberian race.
I have a home Cattery, our kittens are raised with love and we give them the best care. The most important is for us not only good type, but also pefect psyche and HEALT.
We not use lines with any healt problems.
We test regularly all breeding cats, very carefully analyze pedigrees, and carefully planned future connections. Years of experience are very helpful here. We educate all the time, we follow the cases of disease in the lines. Each newly purchased cat is tested for: FeLV/FIV, have vaginal/foreskin swab for Streptoccocus & rest bacterias, PCR test for coronavirus, specialized examinations for Giardia, coccidia and Tritrichomonas foetus, and we have only CLOSED CATTERY (no outside mating)
We also regularly tested cats for HCM and all our next generations, so we have good insight into the health of our lines.
In breeding we use only selected cats, the best cats, which continue to take part in our plans.
I think, siberians should stay healthy and strong, like in nature...